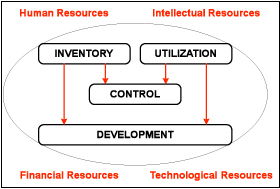 Prasena consulting is about integrating the management of all corporate resources in alignment with the business strategy. It is about upgrading each resource management function to a strategic level, introducing and efficiently using management tools at strategic, operational and tactical levels, in a way that takes into account global, local and business line viewpoints.
Our approach is to listen and observe, compare, analyze, diagnose, propose solutions, bring methodologies, recommend management tools, facilitate working sessions, assist in the implementation, monitor and evaluate progress.
• To support our

diagnoses, we use audit, testing, assessment and benchmarking techniques, as well as market intelligence.
• To support our methodologies, solutions and management tools, we use a range of software and

databases, as well as games and other edutainment tools.
• To support the implementation of our projects, we use coaching, training and evaluation techniques.
• To share our research, findings and experiences, we produce publications, white papers and survey reports, and much training material is available in our Knowledge Center