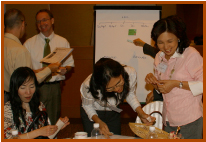 "What attracts and glues kids to today's video and computer games, is neither the violence, nor even the subject matter, but rather the learning the games provide. Kids like, and all humans love, to learn when it isn't forced on them". Marc Prensky, author of "Digital Game-Based Learning"

In line with this observation, "have fun to learn better" is our guiding principle in all the activities we prefer to call "edutainment" rather than mere "training". To support this mindset, Prasena endeavors to enrich the range and variety of learning experiences available at work, whether in association with consulting projects or on a stand-alone basis. Moreover, a special service is offered to Training Managers, to help them clarify learning needs within their organization and fulfill them with an entirely customized set of learning experiences.
Learning Management
Learning management consists in developing an inventory of learning experiences (formal or informal, institutional or private, face-to-face or remote, intensive or extensive, with or without instructor) that are available to the organization, identifying the specific needs of each employee in each category of learning, selecting the learning experiences most adapted to these needs, planning and budgeting them so as to ensure a timely and efficient deployment. Read More
Training Programs
Change Management
Socioeconomic Change's Impact on Working Life
Facing the Learning Challenge
Valuing Diversity
Generations at Work
Time Management
The Multiple Competencies of Communication
Strategic Management
Customer-centric Organization
Crisis Management Simulation
Crisis Management
Organization Structure Design
Start-up Structuring
Competencies Dictionary Design
Managing a Western Organization in Asia
Clarifying the Notion of Talent
HR Management
Senior HR Management
Professional HR Management
Professional Training Management
Learning-wares Dictionary Design
HRM Knowledge-sharing
Thailand HR Update
HR for non-HR – Performance Evaluation
HR for non-HR – Employee Motivation
HR for non-HR – Competencies Evaluation
HR for non-HR – HR for Junior Line Managers
Corporate Games
Who Does What?
Who Needs What?
Who Knows What?
Who Learns What?